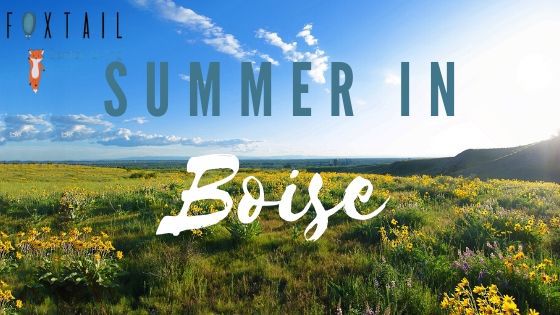 Staying active as you age is so important. While those cold winter months can make it hard to get out and about and encourages you to find indoor activities, with the warm weather comes more opportunity for adventure!
Summer has begun, and for seniors looking to make the most of this season, Boise, Idaho is the place to do it.
Named the best big senior-friendly city in a study by ApartmentGuide, Boise offers a variety of opportunities to occupy this summer season, with an abundance of scenic outdoor activities, arts and culture, and recreation. Boise, Idaho is a city free of boredom and full of senior accommodations. So make the most of this summer and check out the wonderful things that this city has to offer that every age can enjoy!
Boise Art Museum
Set to open in accordance with state regulations, the Boise Art Museum will be the muse to many this summer in Boise. The museum focuses on creating an artistic experience for everyone in the community. With a variety of exhibitions, collections, and educational experiences there is a variety of options that anyone can enjoy.
Idaho Botanical Garden
With 35 years of Garden History, the Idaho Botanical Garden flourishes with the idea of cultivating connections among the community between people and nature. Serving as a sanctuary in the community, this scenic attraction can be found in the heart of the Old State Penitentiary district. The garden is nestled in the Boise Foothills and is a true gem of the Treasure Valley.
Boise Parks
Boise has an abundance of outdoor excursions. Embrace the beauty of the City of Trees, and enjoy a walk on the 25-mile tree-lined Boise Greenbelt that follows the river through the heart of the city. Symbolizing more than just a trail, this greenbelt serves as a uniting ribbon to honor Boise's civic leaders. Named the Ribbon of Jewels , the Greenbelt connects to 10 parks that are legacies of remarkable women, honoring their impact in the community.
Thrive This Summer In "The Most Livable City"
The city of Boise is abundant in arts and culture, recreational activities, and beautiful scenery. Take advantage of all the wonderful things Boise has to offer this summer. Whether it's a visit to the Boise Depot, a walk down the Boise Greenbelt, or a sunset viewing in the postcard backdrop of the Boise Foothills, the city has an abundance of activities for every age to enjoy.
With so many options to choose from, every day can be a new adventure in the city. However, one thing to be sure of is that your home and your care is consistently the best. That's what Foxtail Senior Living has prided itself on for the past 25 years in Boise, proving the best care to the residents and families. Thrive this summer in the most liveable city by choosing the right senior living facility, Foxtail Senior Living.